Can you have multiple life insurance policies in Canada? If you can, why would you want to? And in what circumstances? As with most policy questions, the specifics will come down to your circumstances, but we're here to help you with the broad strokes.
To give you an answer in a nutshell, yes, you can have multiple life insurance policies in Canada. It is perfectly legal and widespread practice for those who start their coverage at a young age and outgrow their policy terms. Let's dive into why you may want to explore multiple policies.
Can I have multiple life insurance policies?
Taking out two or more life insurance policies is often known as laddering. Life insurance, by its nature, is extremely flexible; you can adjust the term length, opt for Whole Life insurance, set coverage at a level that fits your needs etc. By laddering your life insurance policies, you can adjust your coverage and taper it down as your financial obligations dwindle.
What does this look like in real terms?
One of the key reasons people opt for their initial life insurance policy is to cover their mortgage payments. For example, a term life insurance policy often runs the length of your mortgage. As your life evolves, you may find yourself more financially secure or have additional financial responsibilities. At this point, you may wish to add in an additional term life insurance policy for a second mortgage, business debts etc. or a whole life insurance policy to ensure your loved ones receive a lump sum outside of your mortgage.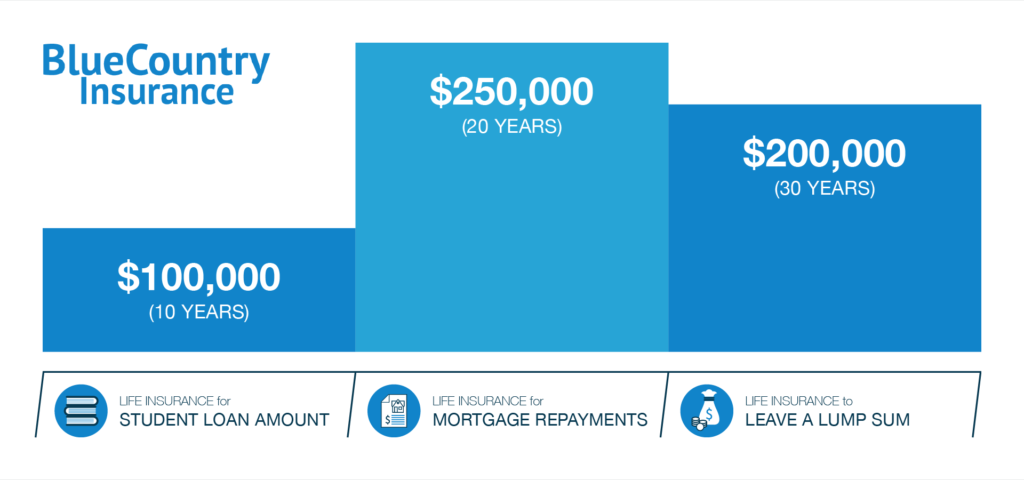 Why would I want multiple life insurance policies?
As your coverage needs grow, you will have the option to convert your existing life insurance policy to something more all-encompassing (especially true if you have a group policy through your employer). However, you may prefer to ladder your policies in the following scenarios:
You have several large financial obligations and wish coverage to last for the term of repayments only. For instance, two policies can run side by side to cover your primary and second home mortgages until they are completed.
You have a group policy that is capped at a low amount but is at a favourable rate. An additional policy will allow you to boost coverage to the level you need without forgoing the benefits of the group payment plan.
You want tapered coverage through a term plan e.g., to cover your mortgage and fixed coverage through a whole life plan e.g., to provide a lump sum to your loved ones.
You can afford more coverage than you previously could. If your financial position has improved, you may wish to expand your current level of coverage. If you have a great policy locked in already, you may wish to add to it through an additional policy instead of converting the old one.
Are there limits on how much life insurance coverage I can have?
There are no specific limits on how much combined coverage you can have over multiple life insurance policies, but it does have to be reasonable.
Each life insurance policy application will need to be examined by your broker with the usual checks of income, assets, and liabilities. If this is your second policy (or greater), the broker will also need to know your current level of coverage. If the total combined coverage is more than twenty times your income, this can trigger additional checks due to the risk of fraud. As long as you are below this threshold and can afford the repayments on all of your policies, you are unlikely to have any issues.
Advantages and disadvantages of multiple life insurance policies
✔ More flexibility on your coverage allows you to easily manage multiple financial obligations
✔ Laddering policies can be cheaper than a single amount if you opt for term policies
❌ There is more admin to take care of setting up and maintaining multiple policies
❌ You will have to manage multiple separate policies payments each month, rather than a single payment
Want to apply for Life Insurance coverage?
Life insurance policies are a great investment at any age. The young can benefit from a locked-in low premium, while peace of mind and savings options make them great for older generations too. If you would like more information about term or permanent life insurance, our team would be delighted to talk through your options.
Blue Country Insurance – all your protection under one roof… because your health and life matters.