Protect yourself with supplemental Health, Dental and Vision Insurance
Supplemental health insurance can be one of the most important investments that you can make for your future, especially if you are currently healthy.
If you face a serious illness or injury, it is all too easy to accumulate significant expenses and medical bills that are not covered by your provincial health plan. For example, prescription drugs, dental care and various forms of treatment and care outside the hospital or doctor's office may not be covered. Some of these important types of medical care can come with hefty bills, especially expensive new prescription drugs, extensive dental work or intensive therapies.
However, too many people in Saint John do not realize the importance of obtaining a health insurance plan as a supplement to their provincial plan until a serious illness develops. If you wait until you become ill to apply for health insurance, you will have exclusions on your health plan as any existing health conditions will be considered as pre-existing conditions. As a result, you may find yourself struggling to make ends meet or dealing with debt as a result of unexpected medical expenses.
By acting to obtain individual health insurance now, you can make sure that you will be covered when you need to rely on your supplemental plan, giving you peace of mind and the ability to pursue important health needs like proper vision care and dental work.
Some of the benefits of individual health insurance include the following:
Prescription drug benefits: You can access many costly drugs for as little as $20 to $50, even expensive, in-patent medications
Therapeutic support: Your individual health plan provides up to $500 in annual coverage for chiropractic, physio, massage and other therapeutic services
Vision care: Supplemental health insurance provides up to $300 in annual coverage for eyeglasses
Dental care: Receive up to 80% coverage for a number of dental services, including examination, cleanings and fillings
Cash emergency benefits: If you suffer one of a set of specified critical illnesses, such as a severe stroke or heart attack, you could receive $10,000 to $25,000 in lump sum benefits to help you get through this difficult time.
Why Choose Individual Health Insurance
Many people in rely on their provincial health plans to cover their key costs, including doctor's visits and the medications they receive while in the hospital. However, many serious illnesses can come with a number of ancillary costs that may not receive coverage under your government plan. Prescription drugs, vision care, and other costs can add up over time, especially if an entire family needs care. By enrolling in private supplemental health insurance, Atlantic Canadians can protect themselves and their family members. With an affordable monthly cost, you can obtain peace of mind for yourself and your family members. However, it is important to take action to protect yourself while your health is intact for the best results.
Health Care Expenses Add Up: Even Without an Emergency
Female Age 26
Contacts $350

2 Anitbiotics $120

Molded Arch Supports $225

Massage Therapy $100

Birth Control $245

Dental Cleaning $115

One Filling $130

Travel Ins. One Week $45
Male Age 40
Eye Exam $110

Pysiotherapy $328

Antibiotics $70

Blood Pressure Meds. $245

Dental Cleaning $115

Two Fillings $260
Family With 2 Kids
2 Eye Exams $220

Contacts $350

Pysiothrapy $328

Moulded Arch Supports $225

Massage Therapy $200

Blood Pressure Meds. $115

3 Antibiotics $210

4 Dental Cleanings $460

2 Fillings $260

One Root Canal $560

Travel Ins. For A Week $148
Unexpected Prescription Costs Can Be Financially Devastating
Prescription drug costs can be particularly substantial in case of a serious or sudden illness. For example, consider the following estimates of annual drug costs for a number of serious illnesses:
Condition
Cancer

Psoriasis

Crohn's Disease

Rheumatoid Arthritis

Asthma

Diabetes (Supplies & Insulin)

Insulin Pump
Annual Drug Cost
$44,000

$36,000

$35,000

$27,000

$2500

$1500

$6800
*Please note, these estimates are based on approximate annual costs for people with a moderate to severe condition. Costs may vary greatly depending on the particular medications needed for a specified illness. Costs could be higher or lower than mentioned here.
The Elements Personal Health Plan: Choose What You Need, Flexibly and Simply

Medavie Blue Cross offers the Elements health plan, offering six different modules of coverage. You can mix and match these coverage types to obtain the individual, flexible plan that you need for your life. With this flexible package, you can adapt to changes in your life while maintaining your individual health coverage.
There are many great times to invest in an individual health plan to supplement your provincial health coverage. Whether you are attending college or university, starting out in employment, working for yourself, getting married, buying a home, beginning a family or planning for your retirement, there are options that are well-suited to your needs. Once you are accepted by Medavie Blue Cross, you can change your plan over the years to support your current life stage and developments.
Blue Country Insurance is an agent for Medavie Blue Cross. We will be delighted to work with you to help you find just the right package that provides the coverage you need at an affordable, accessible price. We bring a personal touch to the table, and we can work with you over the years to change your plan and help you find the right coverage to adapt to a new situation. Whether you're marrying, separating or divorcing, growing your family or starting your own business, there are changes you may want to make to your Elements plan. As your personal health insurance broker in Saint John, we take pride in knowing our customers and helping you get the coverage you need.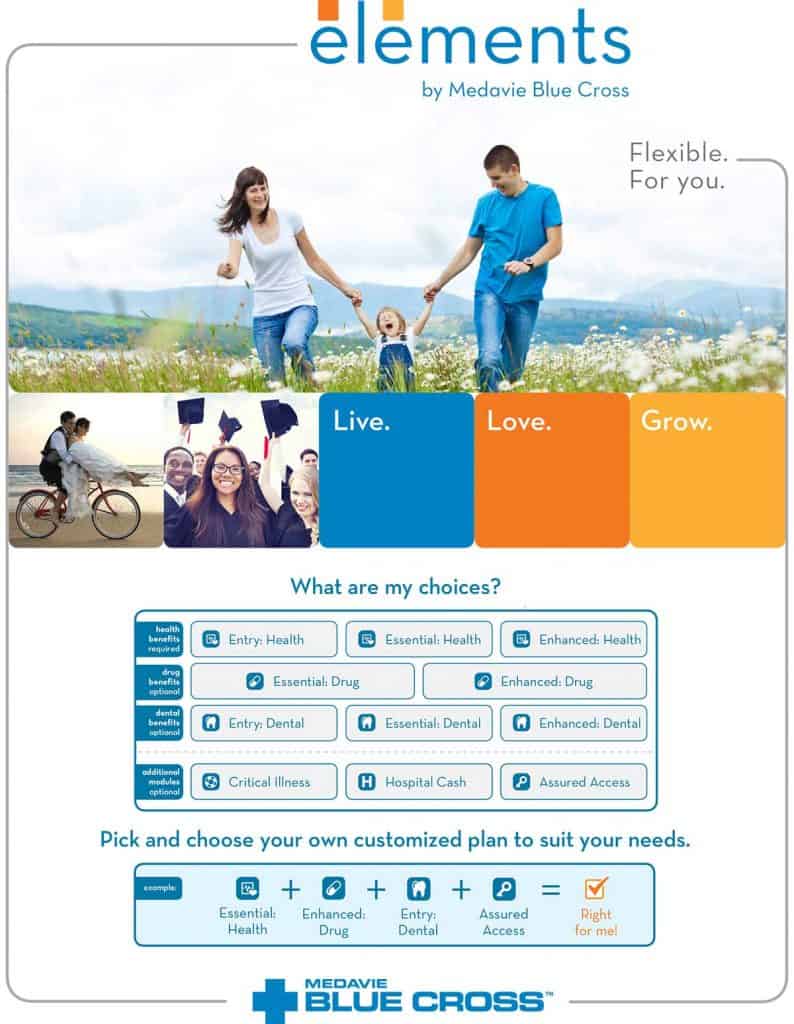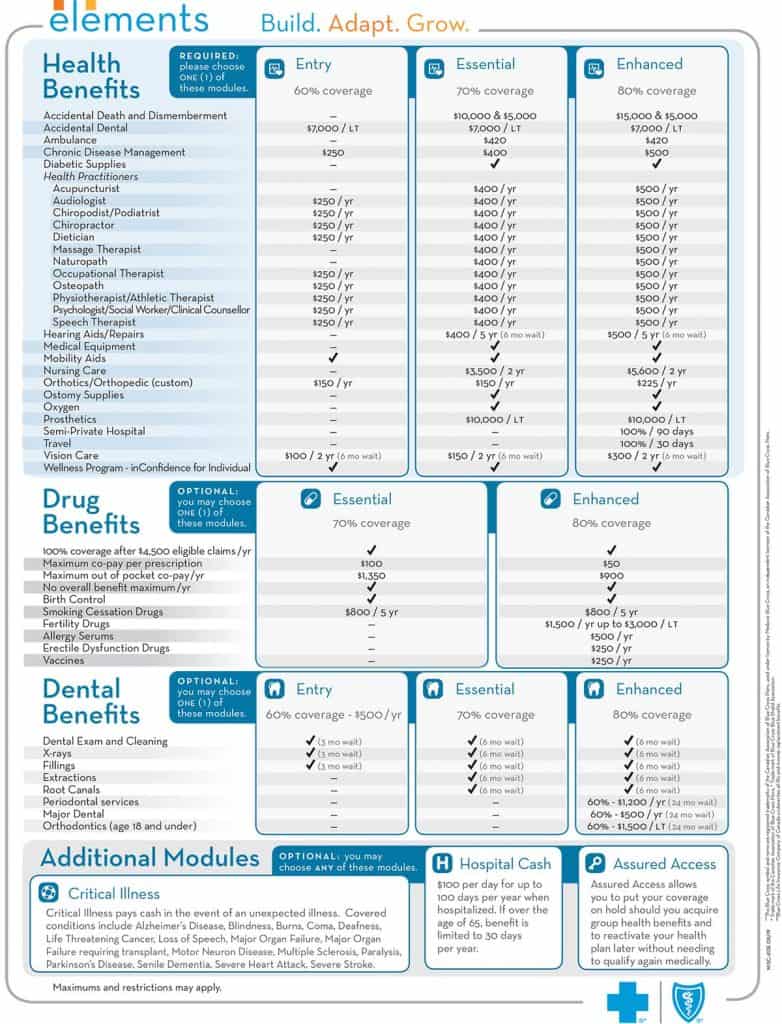 *Please note, at least a Health Module is required for every Elements Plan. There are various maximums and restrictions that apply; contact us for additional details
Find out more about the Blue Country difference!
Have questions? Get in touch now – Always caring, always here!