Health Insurance
Are you covered for Health, Dental or Vision?
Getting health insurance coverage when you are healthy is undoubtedly one of the best decisions you will ever make.
If you wait until you become ill or injured to apply for a health insurance plan, your coverage could be limited or even denied. If you are accepted, your premiums could be much higher and your existing medical conditions will not be covered, leaving you to pay for the costs associated with your illness.
Provincial health plans generally do not cover prescription drugs, dental work or even treatments that happen outside the hospital or doctor's office. Personal health insurance guarantees you access to affordable treatments and provides coverage towards expensive drugs, dental work and other costly health expenses.
Benefits of Individual Health Insurance:
Access to costly prescription drugs for as little as 20% to a maximum of $50
Up to $500 annually for services such as massage, physio, chiropractor and more
Vision Care coverage for eyeglasses up to $300
Up to 80% coverage for expensive dental services such as routine exams, cleanings and fillings
Between $10,000 to $25,000 lump sum cash provided in the event you suffer a severe heart attack, severe stroke or another specified critical illness
Why Individual Health Insurance?
Health insurance helps to cover health expenses that are not covered by your provincial health plan. Government health plans typically only cover the cost of treatment and medications while you are in hospital and doctor's visits. It is a wise decision to protect you and your family members from having to pay medical expenses out of pocket — and to get individual insurance while you are still healthy.
Here are some examples of health care expenses an individual or family could incur.
Female Age 26
Contacts $350

2 Anitbiotics $120

Molded Arch Supports $225

Massage Therapy $100

Birth Control $245

Dental Cleaning $115

One Filling $130

Travel Ins. One Week $45
Male Age 40
Eye Exam $110

Pysiotherapy $328

Antibiotics $70

Blood Pressure Meds. $245

Dental Cleaning $115

Two Fillings $260
Family With 2 Kids
2 Eye Exams $220

Contacts $350

Pysiothrapy $328

Moulded Arch Supports $225

Massage Therapy $200

Blood Pressure Meds. $115

3 Antibiotics $210

4 Dental Cleanings $460

2 Fillings $260

One Root Canal $560

Travel Ins. For A Week $148
Consider The Cost Of An Unexpected Illness
Condition
Cancer

Psoriasis

Crohn's Disease

Rheumatoid Arthritis

Asthma

Diabetes (Supplies & Insulin)

Insulin Pump
Annual Drug Cost
$44,000

$36,000

$35,000

$27,000

$2500

$1500

$6800
*Based on approximate drug costs to a person with a moderate to a severe case of the specified illness.
Depending on the severity of the illness, the costs may be higher or lower then these listed.
Elements Personal Health Plan
Flexible and Simple

The Elements by Medavie Blue Cross health plan offers 6 different modules that can be mixed and matched to fit your needs and your budget. The end result is a flexible plan that can follow you through life.
Whether you are a young adult at college or university, just starting out, self-employed, buying a home, ready to start a family or planning for retirement, there is a plan for you. Once you are accepted, you can change your plan to suit your time of life.
As an agent for Medavie Blue Cross, we will be happy to work with you to develop the plan you need, at a price you can afford. In addition, we will keep in touch with you so that changes can be made to your plan during key life events like marriage, separation or divorce, and birth or adoption of a child.  We are happy to be your personal Health Insurance Broker in St. John's.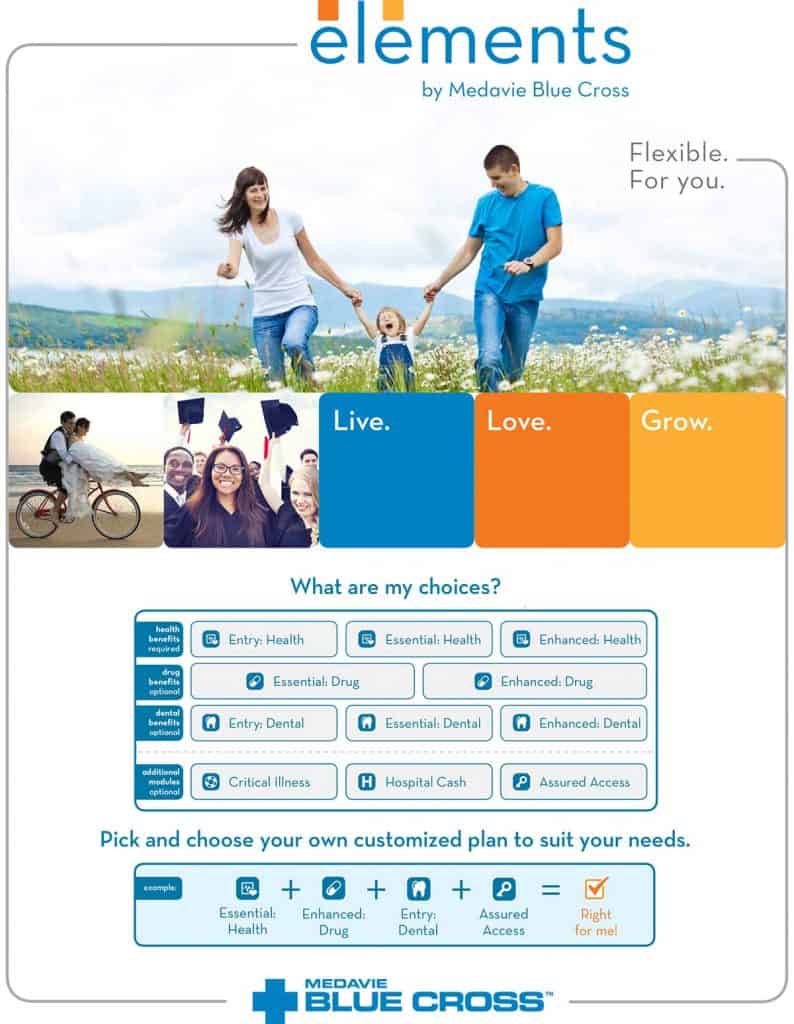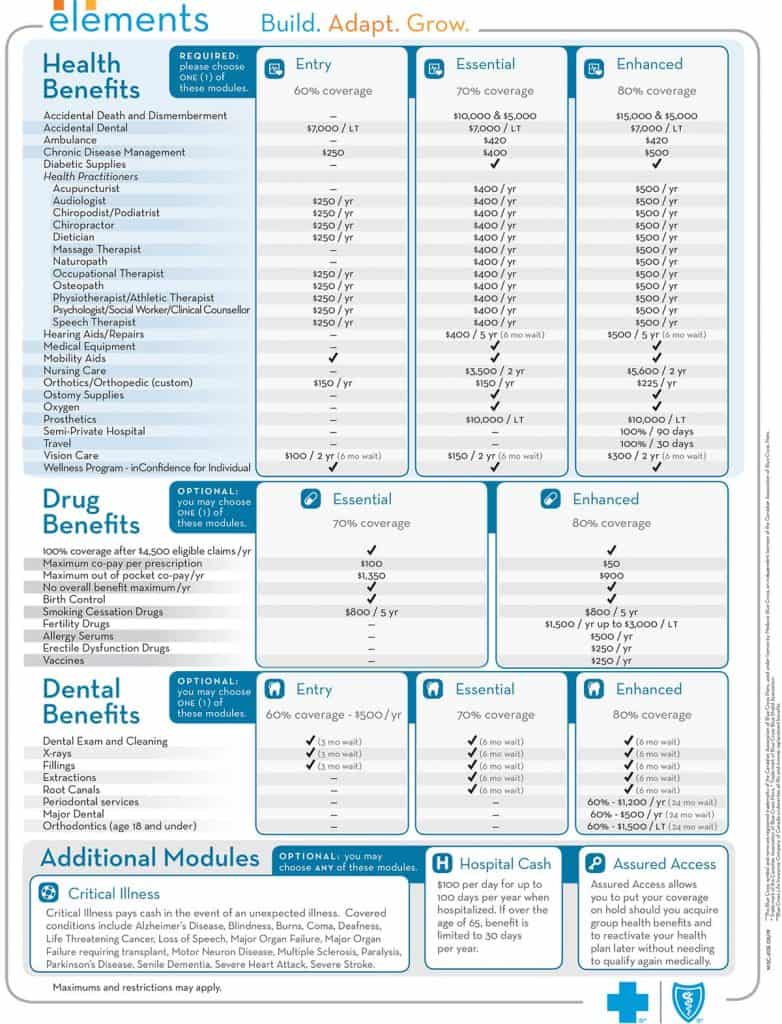 *At a minimum, a Health Module is required for every Elements Plan.
*Maximums and restrictions may apply.
*Contact us for further information
Find out more about the Blue Country difference!
Have questions? Get in touch now – Always caring, always here!
[otw_bm_vc otw_blog_list="1″]