Are you wondering which path is best for you? Provincial drug plans and individual health plans both have pros and cons. Read more about your choices and make an informed choice.
Choosing private or provincial healthcare can be a difficult decision. Most interested parties will tell you why one is infinitely better than the other, but the truth is more complex. Both have benefits and disadvantages; the choice often comes down to your circumstances.
The benefits of provincial drug plans
If you are a New Brunswick resident, you can register for the NB provincial Drug Plan.
Let's look at pricing straight out of the gate. If you have a low income, the provincial drug plan could be a solid option for you. Your basic medication needs are taken care of for an economical price. If you have multiple children at home, its value for money grows, as those under 18-years-old will not have to pay premiums as long as a parent is enrolled in the plan. You are still required to pay a premium (set by your income) and a 30% co-payment for each prescription. The following information is from the New Brunswick government website. It may not be the most up to date information and is just a guide: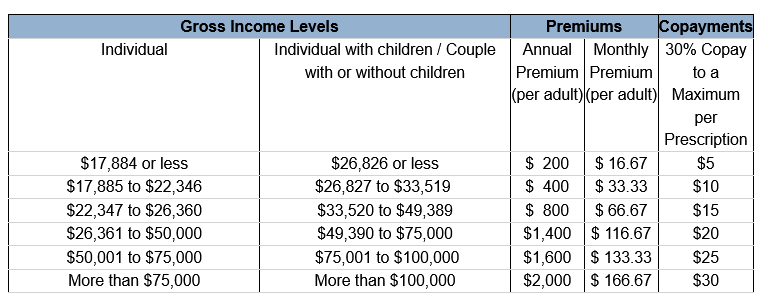 If you have multiple pre-existing conditions, you may struggle to get affordable private health coverage. Provincial drug plans can be a lifeline for those who did not lock in health insurance before falling ill. This is not straightforward, however. There are many health insurance products, such as our guaranteed issue health plan, that you could still qualify for despite existing conditions. We recommend discussing your existing conditions with a licensed professional to determine which path is right for you.
The disadvantages of provincial drug plans
One of the primary disadvantages of provincial drug plans is that only an extremely limited number of available drugs are available. Currently, there are around 3,500-4,000 medicines listed at any one time on a provincial plan, which sounds like a lot, but more comprehensive plans, such as Blue Cross, have more than 10,000 options available.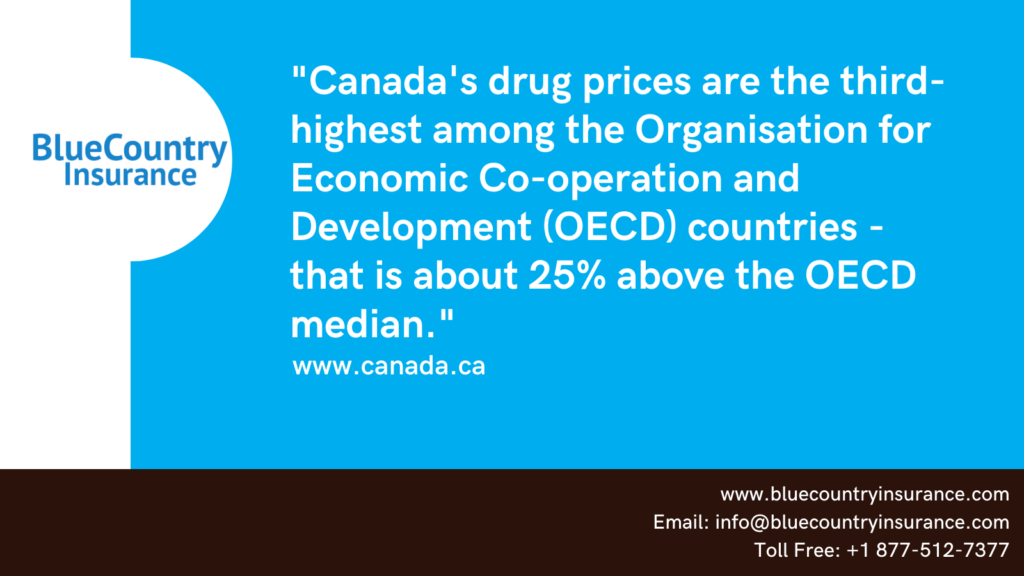 The benefits of individual health plans
As we've mentioned above, individual health plans give you access to a far greater variety of medications, and they are also more likely to include newer options.
One of the major advantages of individual health plans is that they are tailored to your needs. While costs can fluctuate depending on your circumstances, you can factor in some existing conditions and extra coverage in areas you need it. And you're not just limited to drugs coverage. Our plans also include:
Up to $500 annually for services such as massage, physio, chiropractor and more
Vision Care coverage for eyeglasses up to $300
Up to 80% coverage for expensive dental services such as routine exams, cleanings, and fillings
Between $10,000 to $25,000 lump sum cash provided in the event you suffer a severe heart attack, severe stroke or another specified critical illness
You can read more about our individual plans here.
The disadvantages of individual health plans
Unfortunately, if you wait until you become ill or injured to apply for a health insurance plan, your coverage could be limited or even denied. If you are accepted, your premiums could be much higher and your existing medical conditions will not be covered, leaving you to pay for the costs associated with your illness.
Alternatives options
If you are looking for more comprehensive health coverage but don't feel like you are in a position to take out an individual health plan, you may wish to consider joining a group plan, if your employer offers one. You can read about how a group plan differs from an individual plan here.
Let's talk about your options
The easiest way to know the right path for you is to discuss your options with our team. We will happily give you a quote and our honest opinion once we have a firm understanding of your circumstances. Get in touch to discuss drug and health plans today.
Blue Country Insurance – all your protection under one roof… because your health and life matters.