Spring is around the corner and people are starting to feel cautiously optimistic about travel once again. Maybe you are looking to book a vacation or maybe you have already booked and need to ensure you have appropriate coverage. No matter how far you have got into your vacation planning, we have the answers you need about travel insurance to give you that extra peace of mind.
With restrictions around the world easing, international travel is becoming more convenient once again. But you may be opting to stay closer to home and take advantage of our beautiful Canadian sights. Whichever path you are looking to explore, we urge you to consider travel insurance before you go.
Do I need travel insurance for outside of Canada?
Yes, absolutely! Most people associate travel insurance with lost baggage, flight delays and more recently, COVID interruptions. One of the fundamental benefits of travel insurance is the cover of any healthcare costs you incur.
While no traveller plans to be sick or injured on their vacation, not having coverage in place can be an expensive mistake. Healthcare prices differ wildly outside of Canada, with our neighbour the USA being particularly costly. Our travel insurance covers up to $5,000,000 of emergency medical care, which should be more than enough to cover any unforeseen health issues.
Read more: What does travel insurance cover.
Do I need travel insurance if I already have health insurance?
If you are travelling outside of Canada, your health insurance will almost certainly not cover you. If you are staying within province lines, your existing health insurance should be sufficient. But if you cross into another province, even for a day trip, you may find yourself out of range of your coverage. So, if you find yourself asking, "do I need travel insurance to travel to another province?" we highly recommend it. If you travel regularly, annual travel insurance plans are an affordable way to travel stress-free.
Do I need foreign health insurance if I already have travel insurance?
Travel insurance is not the same as health insurance. If you are looking at an extended stay away from home, you may want to supplement your travel insurance with additional health insurance. Travel insurance covers your medical costs in an emergency but will not cover routine appointments or care.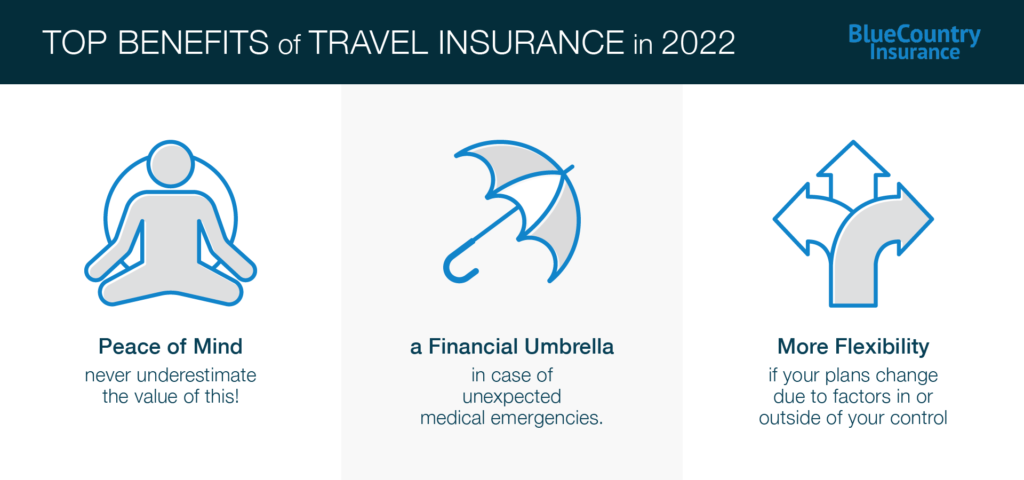 Plan your trip with peace of mind
The travel industry is already reporting interest for 2022 with many removing the pause button from their holiday plans. International and domestic travel is on the up but with unforeseen circumstances and medical costs still a lingering cloud, we urge you to explore travel insurance before you pack your bags. Flexible and affordable, it's the way forward for smart, stress-free travel in 2022. If you would like to discuss our travel coverage, either as an individual or a family, please get in touch for a free quote or contact us directly for more information.
Blue Country Insurance – all your protection under one roof… because your health and life matters.